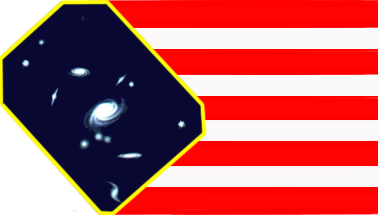 Galactic Chronicles Universe (AKA GC Universe)Edit
An open Science Fiction Omniverse from the mind of Vanessa Ravencroft (The One Behind It All). She welcomes others to contribute to the Omniverse. (Please follow the guidelines at: Writing in the GC Universe).
Main Storyline
Edit
The major storyline follows the life and career of Eric Olafson, a human male [1] born toward the end of the year 4999. His tale starts not long before his birth in 4999 and continues through his childhood, career in the Union Navy, and on past the year 5500 (when he pens his memoirs).
Concepts and tales span from before the creation of the universe, through the dawn and rise of humanity, to humanity's ascent to a multigalactic, multispecies "United Stars of the Galaxies" in 2222 and some 3300+ more years into in the future and beyond. The Union is Utopian, yet still has dark spots to it.
Along the way readers and fans meet heros and villains, the advantaged and disadvantaged, societies from Stone Age to almost God-like and species of beings you'll cheer for, laugh at, worry over and with some you'll boo and hiss at. You will find stories ranging from a day in the life of "the man on the street" to wars that threaten the existence of entire species. Throughout these tales, you find subtle references to the Greats of Science Fiction (Such as E.E. "Doc" Smith, Robert Heinlein, Isaac Asimov and Arthur C. Clark among others) and science fiction pop culture like Star Trek and Star Wars. You'll delve into mythology, real-life events, and sciences both hard and soft.
Incredibly detailed, with roughly 9000 wiki pages (at this time) of stories, art, details and background of the GC Universe at: http://galnet.wikia.com/wiki/Galnet_Data_Base.
[1] Genus Homo Galactus (Of Terran descent)
Community content is available under
CC-BY-SA
unless otherwise noted.