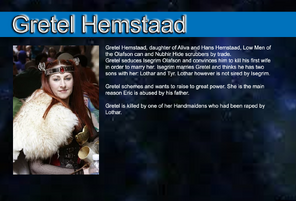 Gretel Hemstaad, daughter of
Aliva
and
Hans Hemstaad
,
Low Men
of the Olafson can and
Nubhir Hide scrubbers
by trade.
Gretel seduces Isegrim Olafson and convinces him to kill his first wife in order to marry her. Isegrim marries Gretel and thinks he has two sons with her: Lothar and Tyr. Lothar however is not sired by Isegrim.
Gretel schemes and wants to raise to great power. She is the main reason Eric is abused by his father.
Gretel is killed by one of her Handmaidens who had been raped by Lothar.
Community content is available under
CC-BY-SA
unless otherwise noted.