We're Getting Mutants in the MCU - The Loop
Play Sound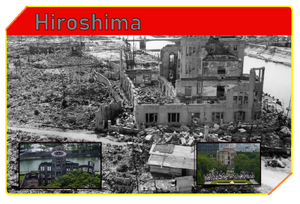 Hiroshima (広島市, Hiroshima-shi, /ˌhɪroʊˈʃiːmə/, also UK: /hɪˈrɒʃɪmə/,[3] US: /hɪˈroʊʃɪmə/, Japanese: [çiɾoɕima]) is the capital of Hiroshima Prefecture in Japan . As of June 1, 2019, the city had an estimated population of 1,199,391. The gross domestic product (GDP) in Greater Hiroshima, Hiroshima Urban Employment Area, was US $61.3 billion as of 2010. Kazumi Matsui has been the city's mayor since April 2011.
Hiroshima was founded in 1598 as a castle town on the Ōta River delta. Following the Meiji Restoration in1868 , Hiroshima rapidly transformed into a major urban center and industrial hub. In 1889 , Hiroshima officially gained city status. The city was a center of military activities during the imperial era, playing significant roles such as in the First Sino-Japanese War, the Russo-Japanese War, and the two world wars.
Hiroshima is best remembered as the first city targeted by a nuclear weapon when the United States Army Air Forces (USAAF) dropped the atomic bomb "Little Boy " on the city at 8:15 a.m. on August 6, 1945. Most of the city was destroyed, and by the end of the year, 90,000–166,000 had died as a result of the blast and its effects. The Hiroshima Peace Memorial (a UNESCO World Heritage Site) serves as a memorial of the bombing.
Since being rebuilt after the war, Hiroshima has become the largest city in the Chūgoku region of western Honshu, the largest island of Japan.
Today as of 5050
There still are no planets, places or ships named after this Japanese cit. The only Hiroshima is on Earth - Asia Region - Japan
While Hiroshima or Nagasaki are no longer the only places a nuclear weapon exploded (Theran , Paris , Jerusalem )
it remains the first and is especially remembered. It became even more of a "shrine" after the Nul joined because in their society Hiroshima is almost as sacred as Narl Gatu .