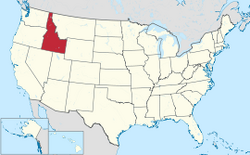 Idaho was a state in the northwestern region of the United States. Idaho was the 14th largest, the 39th most populous, and the 7th least densely populated of the 50 States. The state's largest city and capital was Boise. Residents were called "Idahoans". Idaho was admitted to the United States on July 3, 1890 CE, as the 43rd state.
Idaho was a mountainous state with an area larger than that of all of New England. It bordered the Canadian province of British Columbia to the north, Montana to the northeast, Wyoming to the east, Nevada and Utah to the south, and Washington and Oregon to the west. The network of dams and locks on the Columbia River and Snake River made the city of Lewiston the farthest inland seaport on the Pacific coast of the contiguous United States.
Idaho's nickname was the "Gem State", because nearly every known type of gemstone has been found there. In addition, Idaho was one of only two places in the world where star garnets can be found in any significant quantities, the other being India. Idaho was sometimes called the "Potato State" owing to its popular and widely distributed crop. The state motto was Esto Perpetua (Latin for "Let it be forever").
Important industries in Idaho are food processing, lumber and wood products, machinery, chemical products, paper products, electronics manufacturing, silver and other mining, and tourism. Idaho was an important agricultural state, producing nearly one-third of the potatoes grown in the United States. All three varieties of wheat were grown in the state. The world's largest factory for barrel cheese, the raw product for processed cheese is located in Gooding, Idaho.
WWIII and the Earthquake of 2102Edit
As with the rest of the United States, Idaho's non-agricultural economy suffered heavily from WWIII. The machinery, chemical products, electronics manufacturing and tourism sector were hit the hardest, while the agricultural, food processing, lumber and wood products suffered relatively little. Because of its distance from the Cascadia Subduction Zone and the Pacific Ocean, Idaho had little damage done and only minor loss of life from the Earthquake of 2102.
Modern Idaho and Cascadia

Edit
The "panhandle" area of Idaho considers themselves as part of Cascadia and call themselves "Cascadians", the southern "squarish" area still calls itself "Idaho" and "Idahoans". As part of Cascadia, the region's strong ecological movement limited city sizes in Northern Idaho. Industry relocated in the southern area, and has fully recovered. Cascadians did not allow them to rebuild in their region.
Community content is available under
CC-BY-SA
unless otherwise noted.