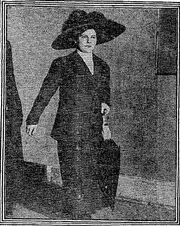 Terran Historical Figure
(Grandmother of Phil Decker )
There's little information available on the web about Isabella Goodwin (save for the fact one-liner), but there is a story & a setting alright.
The story begins in the mid 1800′s when female prisoners were housed with male prisoners and so male officers, their wives, widows of policemen (called "bedmakers," these women were paid out of the policemen's own pockets), or "the maid at the police station" performed searches on female prisoners. Such mingling of the sexes shocked the general public — mainly because of the high number of poor men and women who came to New York City often found themselves forced to find shelter at station houses (these people were called "casuals"). According to the NYPD, "in 1887, at various times, up to 42,000 of these homeless women spent at least one night in a station house." However, things were about to change.
Community content is available under
CC-BY-SA
unless otherwise noted.