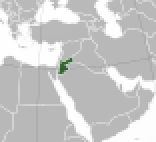 Jordan, officially the Hashemite Kingdom of Jordan, was a kingdom in Western Asia. Jordan was bordered by Saudi Arabia to the south and east, Iraq to the north-east, Syria to the north, and Israel and Palestine to the west.
Description
Edit
Jordan consists of an arid plateau in the east, irrigated by oasis and seasonal water streams, with highland area in the west of arable land and Mediterranean evergreen forestry. The highest point in the country is Jabal Umm al Dami, at 1,854 m above sea level, while the lowest is the Dead Sea −420 m. Jordan had an area of 89,342 km2 
Jordan is semi-dry (0.8% of its area was bodies of water) in summer with temperatures in the mid 30 °C and relatively cool in winter around 13 °C. Western Jordan receives greater precipitation from November to March, with snowfall in Amman (756 m ~ 1,280 m above sea-level) and Western Heights of 500 m. Excluding the rift valley, the rest of the country is entirely above 300 m (SL). The weather is humid from November to March and semi dry for the rest of the year. With hot, dry summers and cool winters, the country has a Mediterranean-style climate. In general, the farther inland from the Mediterranean a given part of the country lies, the greater are the seasonal contrasts in temperature and the less rainfall.
After the post-World War I division of West Asia by Britain and France, the Emirate of Transjordan was officially recognized by the Council of the League of Nations in 1922. In 1946, Jordan became an independent sovereign state officially known as the Hashemite Kingdom of Transjordan. After capturing the West Bank during the 1948 Arab–Israeli War, Abdullah I took the title King of Jordan. The name of the state was changed to The Hashemite Kingdom of Jordan on 1 December 1948.
Economy
Jordan's economy was relatively well diversified. Tourism accounted for 10%–12% of the country's Gross National Product. Trade and finance accounted for nearly one-third of GDP; transportation and communication, public utilities, and construction accounted for one-fifth, and agriculture and manufacturing constituted nearly that proportion. Despite plans to increase the private sector, the state remained the dominant force in Jordan's economy. The government employs between one-third and two-thirds of all workers.
Modern Jordan
Edit
Although devastated during Earth's Third World War, the Jordan area recovered well. Economically, its industry percentages have not changed much. The major post ascent difference is that Jordan's people now enjoy the same living standards as the rest of Earth's population.
Community content is available under
CC-BY-SA
unless otherwise noted.