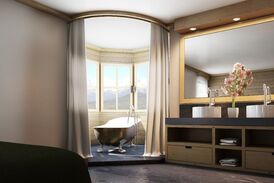 KLOSTERS,
Switzerland
Pronounced clawsters, this is where it all started, at least in public. William and Kate's first pucker-up for the paps was on the piste at Klosters, no doubt securing the resort's social standing for another century. A Rothschild has a home here. And, George I-can-feel-your-pain Osborne likes the odd £11,000-a-time visit. But fears abound that Prince Charles, the resort's most famous visitor, may not return. And the boys might yearn for the buzz of Courchevel over the calm chic of Klosters. Charles hasn't visited for a few seasons now. Glamour model Katie Price has.
Who to see: Prince Charles and the boys, Rupert Everett, George Osborne and Katie Price
Apres-ski: The Casa Antica nightclub is famous for its discretion when it comes to royal custom - Princess Diana was a fan. They'll keep a personal bottle of vodka behind the bar especially for you till it's finished. The Chesa Bar in the Chesa Grischuna hotel is another favourite hangout of the Royal family.
Where to stay: Reserve a suite at the Walserhof hotel, which is where Prince Charles stays (CHF 1,200 p/n).
Community content is available under
CC-BY-SA
unless otherwise noted.