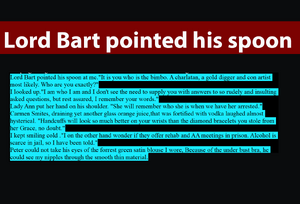 ​​​​​​​Lord Bart
pointed his
spoon at
me. "It is you who is the
bimbo
. A
charlatan
, a
gold digger
 and con artist most likely. Who are you exactly?"
I looked up."I am who I am and I don't see the need to supply you with answers to so rudely and insulting asked questions, but rest assured, I remember your words."
Lady Ann
put her hand on his shoulder. "She will remember who she is when we have her arrested."
Carmen Smites
, draining yet another glass of
orange juice
, that was fortified with
vodka
 laughed almost hysterically. "
Handcuffs
will look so much better on your wrists than the
diamond bracelets
you stole from
her Grace
, no doubt."
I kept smiling cold ."I on the other hand wonder if they offer rehab and
AA meetings
in prison.
Alcohol
is scarce in jail, so I have been told."
Peter could
not take his eyes off the
forest green satin blouse
I wore, Because of the
underbust bra
, he could see my nipples through the smooth thin material.
Community content is available under
CC-BY-SA
unless otherwise noted.