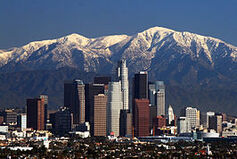 Los Angeles, officially the City of Los Angeles, often known by its initials L.A., was the most populous city in the U.S. state of California and the second-most populous in the United States.
Description
It had a land area of 1,215 km2, and is located in Southern California. Los Angeles was also the seat of Los Angeles County, the most populated and one of the most ethnically diverse counties in the United States, while the entire Los Angeles area itself has been recognized as the most diverse of the nation's largest cities. The city's inhabitants are referred to as Angelenos.
History
Los Angeles was founded on September 4, 1781 OTT, by Spanish Governor Felipe de Neve. It became a part of Mexico in 1821 following the Mexican War of Independence. In 1848, Los Angeles and the rest of California were purchased as part of the Treaty of Guadalupe Hidalgo, becoming part of the United States. Los Angeles was incorporated as a municipality on April 4, 1850, five months before California achieved statehood.
Pre Astro Los Angeles
Nicknamed the City of Angels, Los Angeles was a global city, with strengths in business, international trade, entertainment, culture, media, fashion, science, sports, technology, education, medicine and research and had been ranked 6th in the Global Cities Index and 9th in the Global Economic Power Index. The city was home to renowned institutions covering a broad range of professional and cultural fields and was one of the most substantial economic engines within the United States. The Los Angeles combined statistical area (CSA) had a gross metropolitan product (GMP) of over $1 trillion the year before WWIII, making it the third-largest in the world. Los Angeles included Hollywood and lead the world in the creation of television productions, video games, and recorded music; it was also one of the leaders in motion picture production.
Modern Los Angeles
Severely damaged early in the Third World War, rebuilding had just started when Los Angeles was completely destroyed by the Earthquake of 2102, its aftershocks and the tsunami afterward. Today, it has been restored to Pre Astro conditions and is a sleepy museum city with some tourism and cottage industry.
Community content is available under
CC-BY-SA
unless otherwise noted.