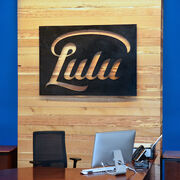 Lu•lu /'lu:lu:/ -
Lulu offers you the expertise, independence and flexibility to create, buy and share what you love with the world. We are passionate about providing a remarkable experience for you to tell stories, share knowledge and fulfill your creative potential.
Lulu.com was founded after Bob Young had an unsatisfying traditional publishing experience with his book Under the Radar, which was based on his success as the co-founder of Red Hat (NYSE: RHT). Bob was determined to establish a more effective and profitable route to publishing. This remains a core tenet of Lulu.com's mission -- making content creation and consumption a simpler and more rewarding experience for people around the world.
Since introducing self-publishing in 2002, Lulu.com has empowered creators in more than 225 countries and territories to produce nearly two million publications. Lulu.com is available in six languages: English, French, Spanish, German, Italian and Dutch.
Lulu Jr. allows children to become published authors, encouraging creativity, strengthening literacy and building self-esteem. Replay Photos offers professional photography of collegiate and professional sports, including a range of personalized products.
FIND ME ON LULU HERE    
Community content is available under
CC-BY-SA
unless otherwise noted.