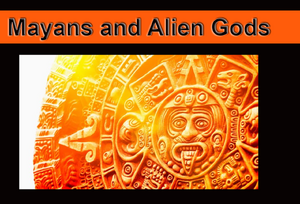 Mayans and Ancient Alien Gods
The ancient Mayan civilization of Central America has astounded archeologists and researchers for decades and it seems that more and more puzzling discoveries related to this ancient culture continue to be made. These were people who were obsessed with astronomy, boasting a highly advanced calendar that is still accurate to this day. But were the Mayans gods who imbued the ancient civilization with their advanced knowledge actually ancient alien gods?
Were the Ancient Gods Aliens?
Edit

There were a couple of names for a feathered serpent-like god in the Mayan pantheon who descended from the heavens and taught these ancient people about astronomy, architecture, and construction, among other things. Known as Quetzalcoatl in the Nahuatl language, or Kukulkan in Mayan, this entity was highly revered and, upon his departure, told the Mayans that he would one day return to Earth. This date was calculated as December 21st, 2012, which caused a lot of excitement and fear leading up to the day that many assumed could be the apocalypse.
While this prophecy apparently failed to come to fruition, Erich von Däniken says he believes that this date was calculated based on our Judeo-Christian calendar, which is somewhat ambiguous in its relation to the birth of Christ. Von Däniken says that there are, more or less, 20 years around the day that we think Christ was born, distorting our prediction of the return of Quetzalcoatl. This means that we still have 15 years to see whether the Mayan prediction will actually come true.
But
Von Däniken
contests that the return of
Quetzalcoatl
wouldn't entail a feathered serpent that descends from the sky, but potentially an extraterrestrial, as seen in the depictions of rulers appearing to pilot machines. There is a recurrent theme of these carvings, with human faces covered by what appear to be helmets with breathing apparatuses in their mouths. Von Däniken says that these devices that covered their mouths were likely filtering air, so as to prevent infection from bacteria or viruses.
In a tomb at Palenque , a carving of the 2nd to the last ruler of the ancient Mayans, Pakal , was found appearing to control an upward-facing machine with flames and smoke shooting out the back. While archeologists have claimed that this carving actually represented the tree of life or a descent into the underworld, two leading Mayan epigraphers have stated that the inscriptions around the tomb detail an ascent into the cosmos.
Inside a sarcophagus, the remains of this ancient ruler were found, though the body was significantly taller than the average height of the ancient Mayans and it appeared to have an unusual bone structure. Pakal was also known to have ruled for 68 years and lived to the age of 80, much longer than the average lifespan for that era.
Community content is available under
CC-BY-SA
unless otherwise noted.