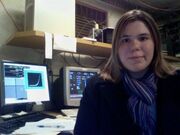 Most biographical details of Dr. Schwamb's life were lost during
Terran
WWIII
.
Only part of her Curriculum Vitae has been retrieved by historians. Her publications still existed after the war due to their wide academic availability.
Education:
Edit
Ph.D., Planetary Science - California Institute of Technology, June 2011 Advisor: Michael E. Brown
M.S., Astrophysics - California Institute of Technology, June 2008
B.A., Physics - University of Pennsylvania, May 2006,  Summa Cum Laude with Distinction in Physics
Positions held:
Edit
Postdoctoral Fellow, Institute of Astronomy & Astrophysics, Academia Sinica
Planet Four Science Team Member
Planet Hunters Project Scientist, Yale University
NSF Astronomy and Astrophysics Postdoctoral Fellow, Yale University
Community content is available under
CC-BY-SA
unless otherwise noted.