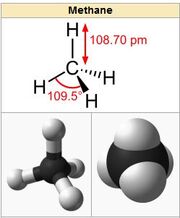 Methane
(pronounced 
/ˈmɛθeɪn/
or /ˈmiːθeɪn/) is a
chemical compound
with the
chemical formula
CH4
. It is the simplest
alkane
and the main component of
natural gas
. The relative abundance of methane makes it an attractive
fuel
. However, because it is a
gas
at
normal conditions
, methane is difficult to transport from its source.
Methane is a relatively potent greenhouse gas. The concentration of methane in the Earth's atmosphere in 1998, expressed as a mole fraction, was 1745 nmol/mol (parts per billion, ppb), up from 700 nmol/mol in 1750. By 2008, however, global methane levels, which had stayed mostly flat since 1998, had risen to 1800 nmol/mol.[3]
Community content is available under
CC-BY-SA
unless otherwise noted.