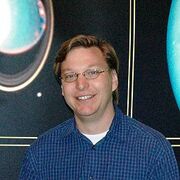 (All Dates in this article are OTT.)
Mike Brown (born 5 June 1965) is an American astronomer, who has been professor of planetary astronomy at the California Institute of Technology (Caltech) since 2003.
Brown is a Huntsville, Alabama native and graduated from Virgil I. Grissom High School in 1983. He earned his A.B. in physics from Princeton University in 1987, where he was a member of the Princeton Tower Club. He did his graduate studies at the University of California, Berkeley where he earned an M.A. degree in astronomy in 1990 and a Ph.D. degree in astronomy in 1994.
His team has discovered many Trans-Neptunian objects (TNOs), notably the dwarf planet Eris, the only known TNO more massive than Pluto. He has referred to himself as the man who "killed Pluto", because he furthered Pluto being downgraded to a dwarf planet in the aftermath of the discovery of Eris and several other probable trans-Neptunian dwarf planets. He is the author of How I Killed Pluto and Why It Had It Coming, published in 2010.
Trans-Neptunian objects discovered: 16

December 18, 2001

December 20, 2001

January 10, 2002

May 17, 2002

June 4, 2002

November 3, 2002

July 26, 2003

November 14, 2003

February 17, 2004

September 22, 2004

October 3, 2004

December 28, 2004

January 8, 2005

March 31, 2005

September 10, 2005

July 17, 2007

Other objects discovered

February 18, 2001

 

 
Community content is available under
CC-BY-SA
unless otherwise noted.