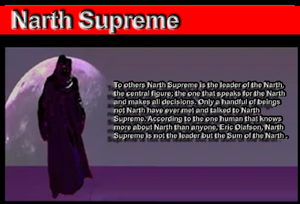 To others
Narth Supreme
is the leader of the Narth, the central figure; the one that speaks for the Narth and makes all decisions. Only a handful of beings not Narth have ever met and talked to Narth Supreme. According to the one human that knows more about Narth than anyone,
Eric Olafson
, Narth Supreme is not the leader but the Sum of the
Narth
.
Narth Supreme appears to all as a deeply shrouded humanoid, speaks with a sexless, yet deep voice that has a slight echo.
To Richard Stahl Narth Supreme said: I am not a god, but then your definition of such an entity and mine are quite different.
No other information on the Narth Supreme available.
Community content is available under
CC-BY-SA
unless otherwise noted.