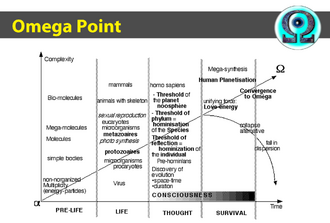 The Omega Point is the purported maximum level of complexity and consciousness towards which some believe the universe is evolving. The term was coined by the French Jesuit Pierre Teilhard de Chardin (1881–1955).
In this theory, developed by Teilhard in The Future of Man , the universe is constantly developing towards higher levels of material complexity and consciousness, a theory of evolution that Teilhard called the Law of Complexity/Consciousness. For Teilhard, the universe can only move in the direction of more complexity and consciousness if it is being drawn by a supreme point of complexity and consciousness. Thus Teilhard postulates the Omega Point as this supreme point of complexity and consciousness, which in his view is the actual cause for the universe to grow in complexity and consciousness. In other words, the Omega Point exists as supremely complex and conscious, transcendent and independent of the evolving universe.
Teilhard argued that the Omega Point resembles the Christian Logos, namely Christ, who draws all things into himself, who in the words of the Nicene Creed, is "God from God", "Light from Light", "True God from true God," and "through him all things were made."

The idea is developed in later writings, such as those of John Godolphin Bennett (1965), John David Garcia (1971), Paolo Soleri (1981), Frank Tipler (1994), and Ray Kurzweil, as well as in science fiction literature.
Omega Point based religions, theology and sects form a big part of Union society as it is considered the 5th largest 5th largest religious movement within the Union. And one out of 100 Union Citizens regardless of species or origin hold all or some of Omega Point theories and theologies to be true or plausible.
(Full article here )
Community content is available under
CC-BY-SA
unless otherwise noted.