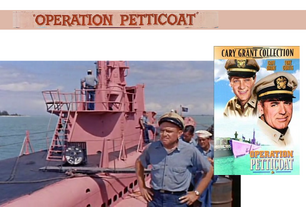 Operation Petticoat
Lieutenant Commander Matt Sherman (Cary Grant) is in charge of the submarine "Sea Tiger ," which was badly damaged at a Philippine shipyard by a Japanese air raid. Seeking to make sail before an oncoming invasion, Sherman enlists the help of newly transferred Lieutenant Nick Holden (Tony Curtis) to use his talents as a con artist to procure the needed supplies. Once they're underway, Sherman evacuates a group of beautiful nurses, but can't find anyone who will take them off his hands.
Initial release: 1959
Director: Blake Edwards
Running time: 124 minutes
Genres: Comedy, Action/Adventure, War film, Action Film
Community content is available under
CC-BY-SA
unless otherwise noted.