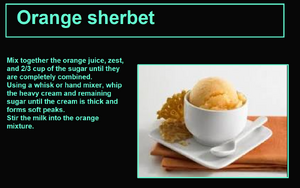 Orange Sherbet
Terran Human desert
Produced in many flavors - One of which is Orange
Sherbet can be purchased via the XChange , Wuerg&Kotz , Silverhawk Emporium , Gal Mart and other outlets.
It can be purchased as ready to eat, instant mixes, molecule maps for Serv-Matics. Several brands and types exist.
Commercially produced sherbet is defined  as a frozen product containing one or more optional dairy products. Sorbet, on the other hand, is a made with sweetened ice and no dairy; it's similar to Italian ice, but made with real fruit instead of imitation flavoring.
Homemade sherbets do not always contain dairy. Early 20th-century American recipes for sherbet include some versions made with water. The American Kitchen Magazine from 1902 distinguishes "water ices" from sherbets, explaining that "sherbets are water ices frozen more rapidly, and egg white or gelatin is often added to give a creamy consistency". In one recipe for pineapple sherbet, water may be used in place of milk. It also separately discusses "milk sherbets".
According to The American Produce Review (1913) "Sherbet is a frozen product made from water or milk, egg whites, sugar, lemon juice and flavoring material". Sherbets are made from a base of "plain ice" which is water, sugar, egg whites, and lemon juice.
Community content is available under
CC-BY-SA
unless otherwise noted.