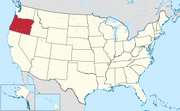 Oregon was a state in the Pacific Northwest of the United States. It was bordered on its west by the Pacific Ocean, on its north by Washington, on its south by California, on its east by Idaho, and on its southeast by Nevada. The Columbia River delineated much of Oregon's northern boundary, and the Snake River delineated much of the eastern boundary. It was one of only three states of the contiguous United States to have a coastline on the Pacific Ocean.
Pre-WWIII Oregon was the ninth largest and 27th most populous U.S. state. Its capital was Salem, the second most populous of its cities, Portland was the largest city in Oregon and ranked 29th in the U.S. The Willamette Valley in western Oregon was the state's most densely populated area, home to eight of the ten most populous cities.
Oregon's landscape was diverse, with a windswept Pacific coastline; a volcano-studded Cascade Range; abundant bodies of water in and west of the Cascades; dense forests at lower elevations; and a high desert sprawling across much of its east. At 3,429 m, Mount Hood was the state high point, and Crater Lake National Park was Oregon's only national park.
Oregon's preAscent economy was dependent on agriculture, forestry, fishing, wine & beer making, tourism, technology and services.
Oregon's infrastructure was badly damaged by both the Earthquake of 2102 and the ensuing tsunami. All coastal cities were erased by the tsunami, Portland, the Willamette Valley and Eastern Oregon were severely damaged. There was a tremendous loss of life. The physical and economic damages required decades to recover from.
Today Oregon is part of the Cascadia region of Terra's North America, and has largely rebuilt, however the region's strong ecological movement limited city sizes. Natives commonly call themselves "Cascadians". Industry relocated in the area, and has fully recovered with the exception of Aerospace and High Technology (Cascadians did not allow them to rebuild in the region).
Community content is available under
CC-BY-SA
unless otherwise noted.