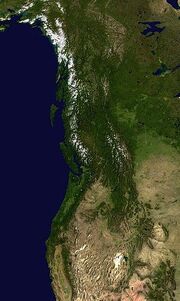 The Pacific Northwest (commonly abbreviated as PNW), often referred to as Cascadia, is a region in western North America bounded by the Pacific Ocean to the west and, loosely, by the Rocky Mountains on the east. Though no agreed boundary exists, a common conception includes the  old U.S. states of Oregon, Washington, and the Canadian province of British Columbia. Broader conceptions reach north into Alaska and Yukon, south into the coastal and mountainous regions of Northern California, and east into Idaho and Western Montana, western Wyoming, and western Alberta, to the Continental Divide. Narrower conceptions may be limited to the Northwestern U.S. or to the coastal areas west of the Cascade and Coast mountains. The variety of definitions can be attributed to partially overlapping commonalities of the region's history, geography, society, and other factors.
The region's largest metropolitan areas were Greater Seattle and Greater Spokane, Washington; Greater Vancouver, British Columbia; and Greater Portland, Oregon.
This quake also triggered the the Cascadia fault and awoke most of the Cascade Volcanic Arc . Major cities severely damaged by this earthquake and its aftereffects included Vancouver and Victoria, British Columbia; Seattle and Spokane, Washington; and Portland, Oregon. Due to their inland locations, Portland and Spokane escaped being virtually destroyed  by the ensuing tsunami. The devastation decimated the area's infrastructure and Agriculture, Aerospace, Forestry, High Technology, Hydroelectric power, and Tourism  industries for decades.
Modern Cascadia
Edit
Today, Cascadia has largely rebuilt, however the region's strong ecological movement limited city sizes. Natives commonly call themselves "Cascadians".  Industry relocated in the area, and has fully recovered with the exception of Aerospace and High Technology (Cascadians did not allow them to rebuild in the region).
Community content is available under
CC-BY-SA
unless otherwise noted.