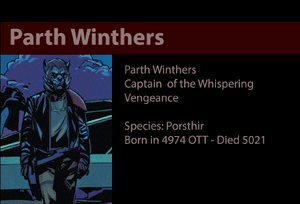 Parth Winthers
Captain  of the Whispering Vengeance
Species: Porsthir
Born in 4974 OTT - Died 5021
Parth Winthers . (Killed in 5021 on Kaliment by an assassin sniper )
Captain of the Whispering Vengeance.
He and his crew pursued a Wartook pirate calling himselfthe Cruel One .
The Wartook had committed a series of horrendous crimes while he had been in the Downward sector of the M-0 galaxy and that Winthers was not really a pirate, but more of a privateer in the actual sense of the term, as he was empowered by his government to hunt down the Wartook and his associates. Narth further explained that Winthers was truly a private party and did acts of piracy but only against enemies of his government.
---

CH 18: Traitors
>>> The wolf-like being stood and said."I am Parth Winthers, the shipmaster of the Whispering Vengeance. This is part of my crew. We are indeed from very far and we traveled for several rotations to this region of space." <<<
Community content is available under
CC-BY-SA
unless otherwise noted.