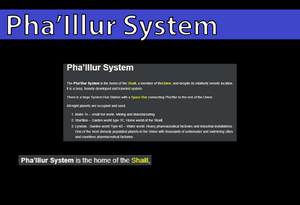 The
Pha'Illur System
is the home of the
Shaill
, a member of the union, and despite its relatively remote location it is a busy, heavily developed and traveled system.
There is a large System Hub Station with a Space Bus connecting Pha'Illur to the rest of the Union.
All eight planets are occupied and used.
Make-Te – small hot world- Mining and Manufacturing.
Sha'Illon – Garden world type 1C, Homeworld of the Shaill.
Lyndois - Garden world Type 4D – Water world. Heavy pharmaceutical factories and industrial installations. One of the most densely populated planets in the Union with thousands of underwater and swimming cities and countless pharmaceutical factories.
Kantroi – Gas giant with 16 moons. All moons are occupied, mostly suburban communities for Lyndois and Howyoben.
Howyoben – Ice/Rock core planet – Many research institutes, The Shaill Institute for Pharmaceutical research, the Shaill Neurological Research University are here.
Mergeni – Ice/Rock planet - Most of the clinics and long term treatment facilities are located here.
Insevast – Union Fleet System Base, Union Court, Sector Security.
Aypali – Small rock planet – Depository for the deadliest compounds known to the Union society. High-Security Area.

Main Export: Pharmaceutical products, chemical products, medicines, poisons
Main Import: Raw materials, biological compounds, poisons, machinery, luxury articles.
Community content is available under
CC-BY-SA
unless otherwise noted.