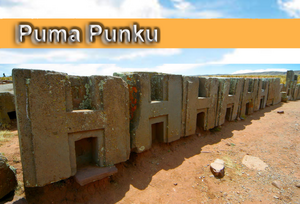 Pumapunku or Puma Punku (Aymara and Quechua puma "cougar, puma," punku "door"; Hispanicized Puma Puncu) is part of a large temple complex or monument group that is part of the Tiwanaku Site near Tiwanaku, in western Bolivia. It is believed to date to
AD 536
and later. Tiwanaku is significant in Inca traditions because it is believed to be the site where the world was created. In Aymara, Puma Punku's name means "The Door of the Puma". The Pumapunku complex consists of an unwalled western court, a central unwalled esplanade, a terraced platform mound that is faced with stone, and a walled eastern
court. At its peak, Pumapunku is thought to have been "unimaginably wondrous," adorned with polished metal plaques, brightly colored ceramic and fabric ornamentation, and visited by costumed citizens, elaborately dressed priests, and elites decked in exotic jewelry. Current understanding of this complex is limited due to its age, the lack of a written record, and the current deteriorated state of the structures due to treasure hunting, looting, stone mining for building stone and railroad ballast, and natural weathering.
See: Axiom Investigation "The Case of the Moon Maiden "
Community content is available under
CC-BY-SA
unless otherwise noted.