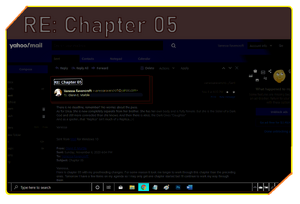 There is no deadline, remember? No worries about the pace.
As for Erica. She is now completely separate from her Brother. She has her own body and is fully female. But she is the Sister of a Dark God and still more connected than she knows. And then there is Alice, the Dark Ones "Daughter"
And as a spoiler...that "Replica" isn't much of a Replica...;-)
Here is chapter 05 with my proofreading changes. For some reason it took me longer to work through this chapter than the preceding ones. Tomorrow I have a few items on my agenda so I may only get one chapter started but I'll continue to work my way through them.
I'm enjoying the storyline as it picks up with Erica again, after the Decision. I'm still wrapping my head around the completion of his->her gender change (my MO is to envision each character and this change is taking some time for my brain to replace my previous male image with a female one). The mention of the battle-axe moving when Erica was so angry was a nice touch and keeps that door open, especially with the Narth claim of Erica's Psionic abilities. Nicely done.
Regards,
Glenn