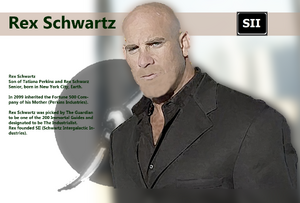 Rex Schwartz
Son of Tatiana Perkins and Rex Schwarz Senior, born in New York City, Earth.
Born: 2063
In 2099 inherited the Fortune 500 Company of his Mother (Perkins Industries).
Rex Schwartz was picked by The Guardian to be one of the 200 Immortal Guides and designated to be The Industrialist.
Rex founded SII (Schwartz Intergalactic Industries).
Rex Schwartz became the richest individual in known Galactic History and the first Centillionair. Rex lives a reclusive life and due to the VIP Protection act, much of his private information is not available. He is married to Linda Schwartz (Linda Majors, also an Immortal) for almost 3000 years now and had 78 children, both their own as well as adopted children.
He is considered one of the most powerful individuals in the Galaxy. The General Public is not aware that RS is an immortal; it is generally believed the name is a title that is handed from President to President (of SII).
Rex Schwartz stands 210 cm tall and has a peak physique. He does not smoke, and drinks Milk or Orange Juice exclusively. Is an ardent fan of Classic Terran Football (American). Rex Schwartz is an Intellect Level 12 and the current Grandmaster Champion of Chess.
Rex1.PNG
General Information
Behind the Scenes

Founded rumors have it that he is a personal friend of Mothermachine.
His personal Space ship the Black Sirius is considered the most expensive Starship and also the fastest ship in existence. (Short of Narth Spheres)
While some would claim he is friends with McElligott and Stahl, it is more a mutual understanding. Stahl neither likes nor trusts Rex Schwartz very much.
Community content is available under
CC-BY-SA
unless otherwise noted.