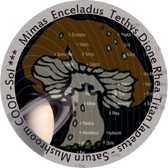 Brand Name of the common
Astro-Shrooms
. Saturn Moon Mushrooms is a Co OP of Saturn Moon Astro Shroom Farmers and sold under the
Saturn Moon
Mushroom Brand name.
---
Astro-Shrooms etc. are variations of genetic altered Terran Mushrooms (Fungi) that were among the first off world grown produce products. Designed to grow in dark, corridors and caves of moons, asteroids and similar places to feed Asteroid Miners and colonists. Further breeding over the centuries created a wide variety of flavors and textures that are the base of many common food products. Some are made into Shroom Paste, while other varieties have the taste of meat, fish or chicken. Yet other varieties are loaded with trace elements, vitamins. Some can be boiled, poached, fried or pickled. There are popular spreads and bread toppings made of Shroom base. Astro Shroom flower is used as base material in older style food processors and the base protein product in many Dehy- Food Pack products. It is still considered the main food of Asteroid Miners. Shrooms are cultivated all over Union space and is a major trade product.
Community content is available under
CC-BY-SA
unless otherwise noted.