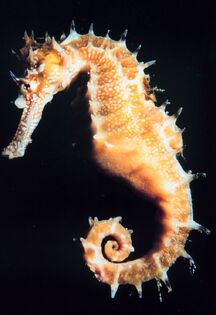 Seahorse is the name given to 54 species of small marine fishes in the genus Hippocampus. "Hippocampus" comes from the Ancient Greek hippos meaning "horse" and kampos meaning "sea monster".Having a head and neck suggestive of a horse, seahorses also feature segmented bony armour, an upright posture and a curled prehensile tail.
Terrans often see similarities between seahorses and the Karthanians
Community content is available under
CC-BY-SA
unless otherwise noted.