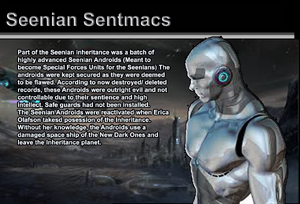 Seenian Sentmacs
Part of the Seenian Inheritance was a batch of highly advanced Seenian Androids (Meant to become Special Forces Units for the Seenians). The androids were kept secured as they were deemed to be flawed. According to now destroyed/ deleted records, these Androids were outright evil and not controllable due to their sentience and high intellect. Safeguards had not been installed.
The Seenian Androids were reactivated when Erica Olafson takes possession of the Inheritance.
Without her knowledge, the Androids use a damaged space ship of the New Dark Ones and leave the Inheritance planet.
The ship loses energy and drive and is found by an SII unit.
Rex Schwartz uses his advanced tech knowledge to implant a loyalty pathway. He officially advocates for their Union membership and it is granted. All 10,000 Seenian Sentmacs become Union Citizens, receive their own world from SII and all become Sii employees.
The Seenian Sentmac leader Balthazar Steelgrip advances to become the CEO of SII Energy and is a devoted servant and friend of Rex Schwartz.
The Seenian Sentmacs forming a secret Black Ops shock force for Rex Schwartz.
Community content is available under
CC-BY-SA
unless otherwise noted.