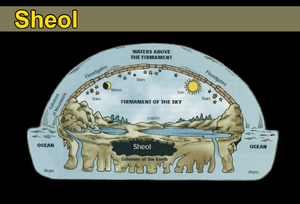 For the planet see
Sheol, planet
She'ol (/ˈʃiːoʊl/ SHEE-ohl, /-əl/; Hebrew שְׁאוֹל Šəʾōl), in the Hebrew Bible , is a place of darkness to which all the dead go, both the righteous and the unrighteous, regardless of the moral choices made in life, a place of stillness and darkness cut off from life but not God because as per written in Book of Psalm 139:8 "If I ascend to heaven, You are there; If I make my bed in Sheol, behold, You are there." The inhabitants of Sheol are the "shades" (rephaim ), entities without personality or strength. Under some circumstances, they are thought to be able to be contacted by the living, as the Witch of Endor contacts the shade of Samuel for Saul, but such practices are forbidden (Deuteronomy 18:10 ).
While the Hebrew Bible describes Sheol as the permanent place of the dead, in the Second Temple period (roughly 500 BC – 70 AD ) a more diverse set of ideas developed. In some texts, Sheol is considered to be the home of both the righteous and the wicked, separated into respective compartments; in others, it was considered a place of punishment, meant for the wicked dead alone, and is equated with Gehenna in the Talmud. When the Hebrew scriptures were translated into Greek in ancient Alexandria around 200 BC , the word "Hades" (the Greek underworld) was substituted for Sheol. This is reflected in the New Testament where Hades is both the underworld of the dead and the personification of it.
Community content is available under
CC-BY-SA
unless otherwise noted.