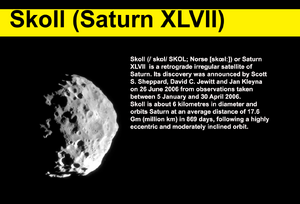 Skoll (/ˈskɒl/ SKOL;
Norse
[[[skœl]] ː]) or Saturn XLVII  is a retrograde irregular satellite of
Saturn
. Its discovery was announced by Scott S. Sheppard, David C. Jewitt and Jan Kleyna on 26 June 2006 from observations taken between 5 January and 30 April 2006.
Skoll is about 6 kilometres in diameter and orbits Saturn at an average distance of 17.6 Gm (million km) in 869 days, following a highly eccentric and moderately inclined orbit.
It was named in April 2007 after
Sköll
, a giant wolf from Norse mythology, son of
Fenrisulfr
and twin brother of
Hati.
It was first physically surveyed in
2102
by
Captain Osama Mahmmoud
was the first human to set foot on this small moon.
It was claimed by
Melvin Summers
for the Schwartz Corporation in
2111 OTT
. Summers and a small team created a physical claim base to validate the
SII
claim.
The base expanded into a mostly subsurface city. (
Melvin's Base
) 
Today it is still owned by SII and is home to the
SII Cryptology Research and Development Division
. A relative small but well funded lab facility researching codes, secret codes, code  breaking and alike subjects. The lab is under contract with
NAVINT
and
ANA
.
About 27,000 live and work on Skoll.
There is a shuttle service to
Saturn Hub
.
Community content is available under
CC-BY-SA
unless otherwise noted.