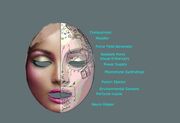 The three defining characteristics of a
Sojonites's
outfit are her mask, a wig of pink hair and a revealing pink outfit.
A Sojonite's mask is that of a beautiful woman's face with open lips, that hides all her features except for her eyes and lips. Sojonites are not allowed to show their faces to anyone, so they appear to everyone alike and no one can fall in love with one in particular.
Restricted
Edit
Besides just hiding a Sojonite's face, the mask also contains sensors that can provide environmental information, both lethal and non lethal weapons, and it can be sealed up to protect the Sojonite Sister from her environment.