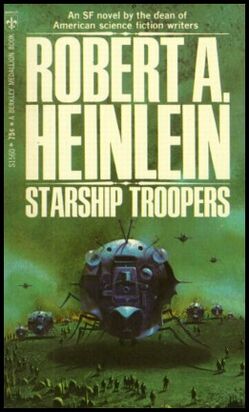 STARSHIP TROOPERS is amilitary science fiction novel by U.S. writer
Robert A. Heinlein
. Written in a few weeks in reaction to the U.S. suspending nuclear tests, the story was first published as a two-part serial in The Magazine of Fantasy & Science Fiction as Starship Soldier, and published as a book by G. P. Putnam's Sons in December
1959
. military science fiction novel by U.S. writer Robert A. Heinlein. Written in a few weeks in reaction to the U.S. suspending nuclear tests, the story was first published as a two-part serial in The Magazine of Fantasy & Science Fiction as Starship Soldier, and published as a book by G. P. Putnam's Sons in December 1959.
Starship Troopers brought to an end Heinlein's series of juvenile novels. It became one of his best-selling books, and is considered his most widely known work. It won the Hugo Award for Best Novel in 1960, and garnered praise from reviewers for its scenes of training and combat and its visualization of a future military. It also became enormously controversial because of the political views it seemed to support. Reviewers were strongly critical of the book's intentional glorification of the military,an aspect described as propaganda and likened to recruitment.The ideology of militarism and the fact that only military veterans had the right to vote in the novel's fictional society led to it being frequently described as fascist. Others disagree, arguing that Heinlein was only exploring the idea of limiting the right to vote to a certain group of people. Heinlein's depiction of gender has also been questioned, while reviewers have said that the terms used to describe the aliens were akin to racial epithets.
This is what Wiki says, written by critics and political correctness advocates that can not keep their squeaky pink opinion to themselves. Heinlein was critical to this very socialist get free handouts society.
My Union is modeled after this philosophy, only cutizens can vote and receive the benefits of society, free loading is tolerated but not encouraged.
Community content is available under
CC-BY-SA
unless otherwise noted.