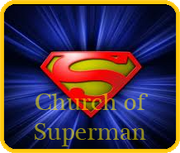 The Church of Superman
founded in 3154
Based on an old DVD that was found by a Scuba Diver of the coast of California. Experts managed to make it work partially.
The myth of Superman, an Alien with great powers who even came back from the Dead to protect humanity became a major religion. The attempt of Admiral Stahl and other Immortals to explain that it was only a Cartoon/ Comic book character was considered Heresy by the Seekers of Krypton who believe this World really existed and accuse the Government to cover up the truth from anyone obtaining such powers.
The Church has a large following especially among Terran Humans. With a membership of over 150 Million as of 4000. The Church split in 4001 into the the True Church of Superman and the Church of Supernan and Jesus – Who believe that Suoerman was the second coming of Christ.
There are several smaller sects that worship aspects of this cult. Such as the Gotham Knights, the Amazons of Earth and others
Neither church accepts any scholastic proof that Superman was indeed just a fictional Character.
Priests of both Churches wear Superman costumes and capes. They also worship Batman, Wonder woman and The Flash as Saints.
Church HQ is California Earth
Community content is available under
CC-BY-SA
unless otherwise noted.