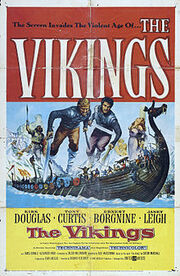 The Vikings is an adventure film directed by Richard Fleischer in 1958 Technicolor, produced by and starring Kirk Douglas, and based on the novel The Viking by Edison Marshall, based in its turn on material from the sagas of Ragnar Lodbrok and his sons. Other starring roles were taken by Tony Curtis, Janet Leigh and Ernest Borgnine. The film made notable use of natural locations inNorway. It was mostly filmed in Maurangerfjorden and Maurangsnes, captured on film by cinematographer Jack Cardiff although Aella's castle was the real Fort de la Latte in north-east Brittany.
Despite being derisively called a "Norse Opera" by New York Times critic Bosley Crowther, the film proved a major box office success and spawned the television series Tales of the Vikings, directed by the film's editor, Elmo Williams, which included none of the original cast or characters.
The Vikings was the second and, as it turned out, last collaboration between Fleischer and Douglas 
This film was the inspiration to create a society of Neo Vikings . Imagining how aculture may develop drawing of such fictional sources.
Community content is available under
CC-BY-SA
unless otherwise noted.