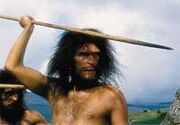 Throwing Stick
This is how Bopho describes a spear the first time he sees it used by members of the Naked Tribe . He and his tribe adapt the new technology quickly and combine the throwing sticks with the fine flint stone tips Bopho and his tribe are so good at making. Bopho uses one of these Throwing Sticks to kill an Anuna Invader that had taken the tribe of his friend to use them as slaves. After hearing the prophecy of his Shaman he takes that spear to the Giant of the Earth (The Guardian ).
Community content is available under
CC-BY-SA
unless otherwise noted.