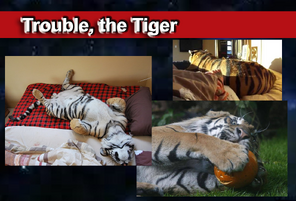 Trouble
(Vanessa's World) My Tiger
Trouble is my Tiger, a genuine 798 pound Siberian Tiger . 
When a traveling circus went out of business, they decided to auction off everything, including their animals. 
I always like auctions to find curiosities for my prop rental business, for my own collection of the weird and for my eBay auctions. And because I like auctions.
I bought a few things...including a Tiger Cub, for 600 Dollars. 
And that is when the troubles began. To have him legal we had to jump to many hoops. We got a Performing Animal license (never having him perform anything other than what he wants) 
But it was a way to keep him. We built a state-approved, zoological expert-approved enclosure with deep concrete foundations, sturdy climb proof fencing, concrete cave...
Trouble never really spend any time in it.
I am working on a book called "Into Trouble Deep" that tells his story.
Well, Trouble lives with us now for 15 years and he is a family member, nothing less. We love him and beyond any doubt that he loves us.
Community content is available under
CC-BY-SA
unless otherwise noted.