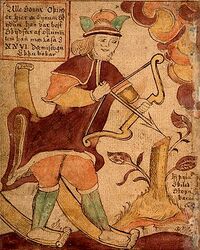 In chapter 31 of Gylfaginning in the Prose Edda, written in the 13th century by SnorriSturluson, Ullr is referred to as a son of Sif (with a father unrecorded in surviving sources) and as a stepson of Sif's husband; the god Thor:
Ullr, Sif's son and Thór's stepson, is one [too]. He is such a good archer and ski-runner that no one can rival him. He is beautiful to look at as well and he has all the characteristics of a warrior. It is also good to call on him in duels.– Young's translation
The second part of the Prose Edda mentions Ullr again in a discussion of kennings. The Edda states that Ullr can be called ski-god, bow-god, hunting-god and shield-god. In turn a shield can be called Ullr's ship.
As Ullr was not one of the "major" Aesir, he has mostly been forgotten by the Neo Vikings.
Community content is available under
CC-BY-SA
unless otherwise noted.