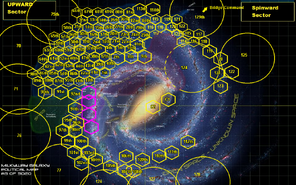 General term and short for the United Stars of the Galaxies Spatial fleet. Even though this is the official name, almost no one not even during official speeches used the whole term.
The United Stars Navy is the largest know organization of any kind and has a long history of over 3000 years.
It is the largest of the four armed forces branches of the United Stars (the United Stars Army, United Stars Marine Corps and the United Stars System Defense Guard being the other three)
Organization
Edit
The Fleet gets its mandate from the United Stars General Assembly and in particular from the Armed Forces Committee. All strategic and tactical decisions as well as operations and logistics are made at Fleet Head Quarters on planet New Annapolis, further fleet HQ's are at Arsenal IV, at Klktt and at Annapolis San Francisco, Earth.
Highest ranking officer is Obrock Mc Elligott, Admiral of the Fleet. McElligott is an Immortal and in this office and rank since the fleet was founded. His position is legal with the Immortal in Office Act of 2240 (which is ratified every 50 years).
The Fleet breaks into several Divisions such as : Fleet Operations, Logistics, Training and Academy, Medical Services, Research and Development, Intelligence and Security, Surveyors Fleet, Personnel, JAG and Space Wings Operations.

Each division is has its own HQ and command staffEdit
| | | |
| --- | --- | --- |
| Division | HQ | Current Comander |
| Fleet Operations | Annapolis Earth | Admiral McElligott |
| Logistics | New Annapolis | Admiral Jukth'tkr |
| Academy | Arsenal II | Admiral Webb Stokes |
| Training | Arsenal V | Admiral Sappap |
| Research & Development | Arsenal IV | Admiral Larson |
| Intelligence | Pauli Station | Admiral Deepa |
| Security | Spqr | Admiral Aurelius |
| Surveyors Fleet | Ulta | Admiral Stabbs |
| Personnel | Arsenal I | Admiral Kttkkmt |
| JAG | New Annapolis | Admiral Brow |
| Medical Services | Saresii III | Admiral Kindelle , M.D |
| Space Wing Operations | Titan | Admiral Donnerwetter |
| (*) Explorer Fleet | New Oxford | Admiral Isah IX |
(*) Exlorer Fleet ship technical operations and logistics are under the command of the Fleet, while missions and scientific personnel is under the command of the Science Council
Strategic Command
Union controlled space is divided into 15 Command Regions
Command Region

Command

Current Commandant

Fleets

UPWARD CENTRAL

UPCENCOM

Admiral McElligott

56

UPWARD OUTER FRINGES

UPOUTCOM

Admiral Loraone

12

UPWARD INNER FRINGES

UPINCOM

Admiral Stahl

50

SPINWARD

SPICOM

Admiral Elainee Nalee

12

COREWARD UPPER

COWACOM

Admiral Strother

24

COREWARD LOWER

COWKLACKCOM

Queen Nt'gtar thk the 745th

80

COREWARD CENTER

COCENTCOM (as of 2025)

Admiral Nartl Gathu

12

DOWNWARD

DOWACOM

Admiral Mao

12

BRIDGE

BRICOM

Admiral McElligott

12

ANDROMEDA AREA 1

ANDRO 1

Admiral Snthemt

12

ANDROMEDA AREA 2

ANDRO 2

Admiral Xeetik

12

LARGE MAGELLAN CLOUD

LMCOM

Admiral Fector

70

FORNAX CLUSTER

FORCOM

Admiral Lester

12

LEO II

LEOCOM

Admiral Ericson

1

SPECIAL X

SPECCOM

Admiral Deepa

n/a
All but LEOCOM and SPECCOM consist of 14 fleets each. LEOCOM has only one at the moment and SEPCCOM is not divided into fleets.

Each Command Region has a number of fleets. Each Fleet consists of up to 12 Battle groups.

BATTLE GROUPSEdit

A typical Union Battle group consists of:
•5 Arsenal ships
•5 carriers
•5 Dreadnoughts
•20 Ultra Battle Ships
•100 Battle ships
•200 Super cruisers
•200 Space Cruisers
•80 Heavy Frigates
•120 Frigates
•200 Destroyers
•2 Hospital Ships
•200 Fleet Tenders
•1 Mobile Dockyard
•2 Fleet Repair ships
•25 Marine troop ships
•1 Wurgus Solar Enticer Ship
•Up to 50,000 Wolfcraft fighters
•Up to 70,000 Gun Boats and Heavy Bombers
•3Megaman Droids
See Also
Edit
Rank and Insignia
Edit
Sorted ranks:
Recruitment and Training
Edit
Community content is available under
CC-BY-SA
unless otherwise noted.