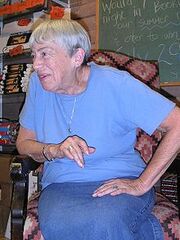 Ursula Kroeber Le Guin (/ˈɜrsələ ˈkroʊbər ləˈɡwɪn/; born October 21, 1929) is an American author of novels, children's books, and short stories, mainly in the genres of fantasy and science fiction. She has also written poetry and essays. First published in the 1960s, her work has often depicted futuristic or imaginary alternative worlds in politics, natural environment, gender, religion, sexuality and ethnography.
She was influenced by fantasy writers like J. R. R. Tolkien, by science fiction writers like Philip K. Dick (who was in her same high school class, though they didn't know one another), by central figures of Western literature like Leo Tolstoy, Virgil and the Brontë sisters, by feminist writers like Virginia Woolf, by children's literature like Alice in Wonderland, The Wind in the Willows, The Jungle Book, by Norse mythology , and by books from the Eastern tradition such as the Tao Te Ching. In turn, she influenced such Booker Prize winners and other writers, as Salman Rushdie and David Mitchell – and notable futurism and fantasy writers like Neil Gaiman and Iain Banks. She has won the Hugo Award, Nebula Award, Locus Award, and World Fantasy Award, each more than once.
---------------
She proved to me that a woman can write SF. Not that she is my most favorite author, but she is an inspiration and role model. She also drew on many of the same themes I do.
V.R
Community content is available under
CC-BY-SA
unless otherwise noted.