I'm a HUGE fan of the
Galactic Chronicles
. I think I have witnessed 4 rewrites. Each one better than the next!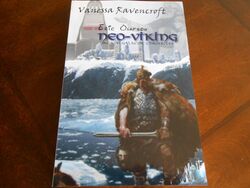 When I was younger I read Fantasy pretty exclusively. But as I've gotten older I've started to really enjoy Science Fiction. I have a hard time finding Sci-Fi books I like. But I've been finding more and more.
I keep fish and poison dart frogs as a hobby. Killifish and Microlivebearers are what I'm focusing on.
Video games are another favorite past time. Console, PC or handheld doesn't matter. Skyrim has got me pretty hooked. I love the rich history of the Elder Scolls Universe.
In addition to all those lovely facts about me I also do some writing. More recently than any other time before. Up until now I have never felt my writing was good enough to share. However I think I'm at the point where I feel comfortable enough in my skill to show off some of my work. So keep an eye on my FictionPress account for my stories.
And lastly, but not leastly, I am now a proud father. My little man was born June 19th, 2013! He's got red, curly hair like his mom and amazing blue eyes that have stayed despite the naysayers.
NOTE: Lists are in no particular order, simply how they came to mind.
Personal Goals Regarding the GC
Edit
Reread all available books and chapters.
Create, or review and edit, 5 Galnet Wiki articles a day.
Write 1 episode a month of my GC-verse Original Fanfic "Triangulum Files".
Write 5,000 additional words a month on an original series.
Favorites from the Galactic Chronicles
Edit
Favorite Authors
Edit
Vanessa Ravencroft
Margaret Weis
Tracy Hickman
Mercedes Lackey
Anne McCaffery
Rick Riordan
Jack Campbell
George R. R. Martin
Favorite Books and Series
Edit
Galactic Chronicles Series by Vanessa Ravencroft
2001: A Space Odyssey by Arther C. Clark
Obsidian Trilogy by Mercedes Lackey and James Mallory
Enduring Flame Trilogy by Mercedes Lackey and James Mallory
Dragon Jousters Trilogy by Mercedes Lackey
Dragonlance Series by Margaret Weis and Tracy Hickman (mostly)
Dragonriders of Pern Series by Anne McCaffery
Dragon Prince Trilogy by Melanie Rawn
Dragon Star Trilogy by Melanie Rawn
Animorphs Series by K. A. Applegate
Inheritance Cycle by Christopher Paolini
Tennis Shoes Adventure Series by Chris Heimerdinger
Percy Jackson & the Olympians Series by Rick Riodan
Heroes of Olympus Series by Rick Riordan
Kane Chronicles Series by Rick Riordan
Harry Potter Series by J. K. Rowling
The Lost Fleet Series by Jack Campbell
A Song of Ice and Fire Series by George R. R. Martin
Favorite TV Series
Edit
Star Trek: Voyager
Star Trek: Enterprise
Stargate SG-1
Stargate Altantis
Stargate Universe
Sanctuary
Firefly
Andromeda
Game of Thrones
Favorite Movies
Edit
Coming........Eventually
Community content is available under
CC-BY-SA
unless otherwise noted.