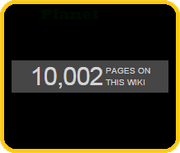 to me it is hard to believe but we reached 10,002 pages on this Wiki
thanks inno small part to Dustin Hicks who relentless and truly dedicated adds page after page and in  a way that really fits the flavor and spirit of the Galactic Chronicles Universe.
Thanks are due of course for Knight Ranger and Gnume .
To all of you my heartfelt thanks and deepest respects.
Sincerely
Vanessa 
Community content is available under
CC-BY-SA
unless otherwise noted.