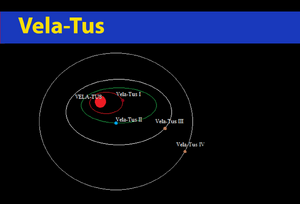 Vela Tus
Union system
within a fringe region known as
270Vela
(UFR-Region)
within a region also known as
Galaxy's Western Edge
M-0 Galaxy
-
Upward Sector
Vela Tus is a star system with an M-Class red star and four planets.
The system is connected via Space Bus , daily to Vela Main . It is a system beyond the main disc of the M-0 galaxy but it is still gravitationally bound to M-0 and not a Transgalactic star system.
All planets are utilized by Union colonists. 
Vela-Tus I
Vela-Tus II
Vela-Tus III
Vela-Tus IV
Vela-Tus II is within the Goldilocks zone and classified as a marginal Gardenworld with liquid water and a biosphere of non-sentient fungi.
Community content is available under
CC-BY-SA
unless otherwise noted.