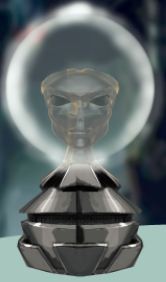 The inheritor the Uni left on Koken. Later, it was taken to Kermac Prime. There was a reason the Kermac forefathers had left the Shafts of Knowledge untouched and left Koken. The story about the Voice of the Universe that told the Ker to seek a place closer to the heart of the Galaxy is mythology[1]. The Kermac (who worship the Voice of the Universe) obeyed.
NOT TO BE CONFUSED WITH THE VOICE OF THE RULE!
[1] See: The Mar Deception.
Community content is available under
CC-BY-SA
unless otherwise noted.