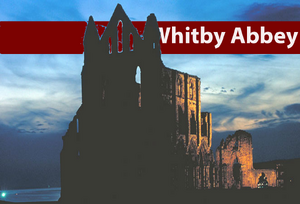 Whitby Abbey was a 7th-century Christian monastery that later became a Benedictine abbey. The abbey church was situated overlooking the North Sea on the East Cliff above Whitby in North Yorkshire, England , a center of the medieval Northumbrian kingdom. The abbey and its possessions were confiscated by the crown under Henry VIII during the Dissolution of the Monasteries between 1536 and 1545 .
Since that time, the ruins of the abbey have continued to be used by sailors as a landmark at the headland. Since the 20th century, the substantial ruins of the church have been declared a Grade I Listed building and are in the care of English Heritage; the site museum is housed in Cholmley House.
The atmospheric ruins of Whitby Abbey in North Yorkshire stand starkly silhouetted above steep cliffs and inspired Bram Stoker's Gothic masterpiece Dracula. Whitby's reported ghostly sightings include a nun whose body was found bricked up within the abbey walls, a coach and horses that plunge over the cliffs, a pirate, and even children.
Community content is available under
CC-BY-SA
unless otherwise noted.