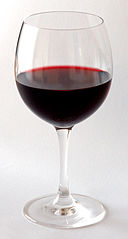 Wine is an alcoholic drink made from grapes or other fruits. The natural chemical balance of grapes lets them ferment without the addition of sugars, acids, enzymes, water, or other nutrients. Yeast consumes the sugars in the grapes and converts them into alcohol and carbon dioxide. Different varieties of grapes and strains of yeasts produce different styles of wine. The well-known variations result from the very complex interactions between the biochemical development of the fruit, reactions involved in fermentation, terroir and subsequent appellation, along with human intervention in the overall process.
The alcohol in wine is a psychoactive drug, as is true for all alcoholic beverages, commonly used for its intoxicating effects today and throughout history. The psychoactive effects of wine are evident at the normal serving size.
Wines made from produce besides grapes are usually named after the product from which they are produced (for example, rice wine, pomegranate wine, apple wine and elderberry wine) and are generically called fruit wine. The term "wine" can also refer to starch-fermented or fortified beverages having higher alcohol content, such as kelp or barley wine, huangjiu, and rice wines such as mijiu and sake.
Since its earliest appearance in Terra's written records, wine has also played an important role in Terran religion. Red wine was closely associated with blood by the ancient Egyptians, who, according to Plutarch, avoided its free consumption as late as the 7th-century BC Saite dynasty, "thinking it to be the blood of those who had once battled against the gods". The Greek cult of Dionysus, carried on by the Romans in their Bacchanalia, were the origins of western theater. Judaism incorporates it in the Kiddush and Christianity in its Eucharist, while alcohol consumption is forbidden in Islam.
The vast majority of carbon-based Union Members enjoy the consumption of some form of wine. Union wide the production of wine is only exceeded by the total production of all beer types.
Community content is available under
CC-BY-SA
unless otherwise noted.