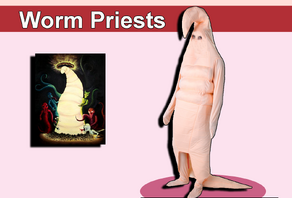 Worm Priest
A vanished sect of a Worm God worshipping priests. Only known temple and place of worship is an inactive volcano mountain on Alvor's Cove .
Images, costumes and relicts have been carefully preserved by the "Brown People ".
Hector Vargas , aka the "Purple Worm " has used much of the symbolism to create his character.
The exact details of the Worm God and the associated sect/religion are unknown.
Shown is the image of a Worm Priest as it was found by Union archeologists.
Community content is available under
CC-BY-SA
unless otherwise noted.